(Just a few notes, not a comprehensive history)

This famous spirits brand was founded in 1825, but there were two distillery facilities in Comber - hence the company name 'Comber Distilleries Company Limited'. There was the Lower Distillery on the Newtownards Road, and the Upper Distillery on Killinchy Street. But 1825 wasn't the beginning of distilling in the town - there had been a malt kiln and distillery on the 'Upper' site since the 1700s, whose owner, a James Patterson, died in 1763. A William Murdock who died in 1805 is named on a local gravestone as 'the eminent distiller of Comber'.

• ORIGINS
But it was George Johnston and John Miller who set up what became the famous Upper Distillery in 1825, on a street near a ford on the Inver River, called Waterford Loney (later renamed Pot Ale Loney, but which is now unimaginatively called Park Way). It almost immediately came to an end, through an accidental fire in July 1832 – caused by a visiting excise officer, a dipping rod and a candle – in which John Miller was very seriously burned. The buildings were almost destroyed and were saved only through the efforts of "almost every one in Comber". The fertile farmland and extensive grain production of east County Down, dotted with windmills, meant that by 1830 Comber Distilleries was producing a reputed 80,000 gallons of whiskey a year.

• 1872: THE BRUCE ERA BEGINS
Samuel Bruce (1838–1922) of Belfast, and also of Norton Hall in Gloucestershire, bought Comber Distilleries from John Miller in 1872; his brother James Bruce (1835–1917) was a director of Royal Irish Distilleries in Belfast, the producers of the Dunville's whiskey brand. Both brothers had been born at the family home of Thorndale in Belfast, just off Duncairn Avenue - today the house is gone but the family is remembered by street names such as Brucevale Court, Kinnaird Place and Thorndale Avenue.

The Bruces claimed descent from the great royal Scottish dynasty of the same name, and also from
Rev Michael Bruce
, the Covenanter minister of Killinchy in the 1660s. During this era Samuel Bruce's monogram 'SB' appeared on the brand's labelling; in his brother James Bruce's country mansion (which is today
Benburb Priory -
link here
) a very similar 'JB' monogram can be seen on the entrance hallway in mosaic tiles.
• 1918: END OF THE BRUCE ERA
On the road towards the Great War, Samuel Bruce was Chairman of Comber Distilleries, and his son
George Bruce
(1880-1918) was Managing Director. In the 'Home Rule' tumult of 1912, George commanded a company of Ulster Volunteers and drilled them in the Lower Distillery yard. In February 1914 he led 100 men of D Company as part of a 1000-strong demonstration in Newtownards. On the outbreak of war George became Captain of the 13th Battalion of the Royal Irish Rifles (County Down Volunteers). Even though he was the MD of a major company, George Bruce served in France throughout the War and was tragically killed in action on 2 October 1918 at Dadizelle in Flanders. Captain George James Bruce D.S.O. M.C. was only 38 years old, meeting his end just six weeks before the Armistice was signed. There is a tablet in Comber Parish Church to his memory. The portrait here is from his memorial page on the
Winchester College
At War
website (
link here
).
• 1918-1925: SOLD TWICE, AND THE DEATH OF SAMUEL BRUCE
Comber Distilleries was then put up for sale and was bought on 12 December 1918 by the Old Bushmills Distillery Company. Samuel Bruce did well from the sale, buying Norton Hall and a London residence, spending the rest of his days in England. However within less than two years, newspaper adverts appeared on 24 September 1920 announcing the liquidation of The Old Bushmills Distillery Company and the sale as a going concern of The Comber Distilleries. In October 1920 it was confirmed that Hollywood and Donnelly had bought Comber. Two years later Samuel Bruce passed away at his home in England on 6 September 1922, aged 86.
• 1925 CENTENARY
The Upper Distillery was rebuilt in Scrabo stone in the early 1920s, at a cost of £50,000, becoming the most advanced distillery in Ireland. But the Lower Distillery closed in the 1930s and was demolished.
There were centenary celebrations in 1925 during which various artefacts were displayed including a letter praising the quality of 'Old Comber' from the
Prince of Wales
, which had been supplied to him via
Lord Londonderry
of Mount Stewart.
The partition of Ireland in 1921, and also the prohibition era in the USA from 1920–1933, undoubtedly had an impact. 'Old Comber' featured among the Ulster whiskies on display in the Ulster Pavilion at the British Empire Exhibition of 1924. Newspaper reports from 1934 show that the firm was once again taking on new employees, there was renewed demand from the United States.
• WORLD WAR TWO
News coverage about the company from the mid 1930s to the early 1950s is pretty scant, but there was a steady amount of display ads within the Northern Ireland newspapers right up to the end of 1939. Distilling in Ulster was suspended for two years in 1943 and 1944, due to barley rationing, but resumed on 1st January 1945. The Lower Distillery premises were sold off by public auction in April 1946; newspaper adverts endorsed by the company, encouraging local farmers to grow 'much more barley', were published throughout the late 1940s
• 1950s: PRODUCTION CEASES - SCOTTISH PURCHASE
Comber Presbyterian Hugh Patton, a Director of the company, died in January 1950 after 30 years of service. Comber Distilleries ceased production in 1953 but the premises and remaining stock of around 50,000 gallons were bought in 1957 by the ambitious Scottish distillers
William Grigor & Sons Ltd
of Inverness (founded 1846) who in 1950 had taken over the famous
Bowmore Distillery
on the island of Islay - one of the oldest in Scotland. The company's managing director was
James Grigor
(a former Provost, or Mayor, of Inverness) ; his brother
William Grigor OBE
was a county surveyor for County Antrim here in Northern Ireland from 1934–1962. Both men had served during the Great War. Here is a photo of James in his role as Provost, in 1953, inspecting the Queen's Own Cameron Highlanders passing-out parade.
But William Grigor & Sons Ltd put Comber Distillery back on the market about four years later in October 1961; a Belfast Telegraph report from 5 October of that year said that James Grigor estimated that if they were to recommence distilling at Comber they could produce around 6,000 gallons a week. However he also said that –
'the main reason for selling the property was that its stocks ... do not qualify for a Scotch whisky certificate although the whisky itself is an excellent one'.
Shockingly, James Grigor possibly didn't live to see the sale through. Within six weeks he was found dead in his bed at Lentran House in Inverness (photo below) on 27 November 1961, aged 67, the owner of three famous spirit brands - William Grigor & Sons, Bowmore and Old Comber. His widow Kay Grigor is said to have sold Bowmore soon after James' death. His brother William died in Belfast in February 1969.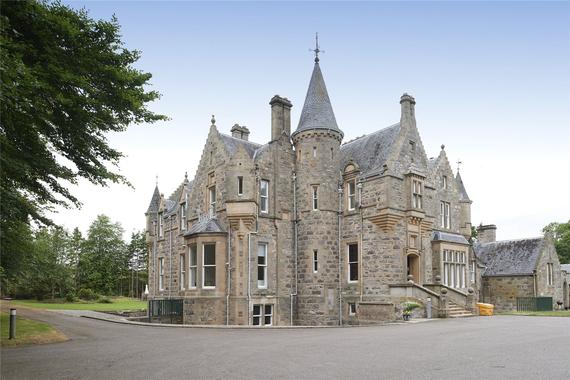 • Back in the 1890s, Old Comber had embraced its Ulster-Scots locality, and possibly the Ulster-Scots cultural understanding of its then owner Samuel Bruce, with a 15 year old release called Auld Cummer. 20-odd years ago I saw an original advert for it in an antique shop in Donegall Pass, but foolishly didn't buy it!
• Sources:
A Taste of Old Comber
(2002) by Len Ball and Desmond Rainey /
The Story of Comber
(1984) by Norman Nevin MBE is also very good
• Comber Historical Society have hosted my talks a few times over the years;
their article on Old Comber Whiskey is here
.